Trade War
Newsletter 109 - April 9, 2022
Welcome to the 109th edition of Trade War.
The Shanghai lockdown spirals into outright crisis as people struggle to get enough to eat and anger flares. Authorities warn residents to be careful what they post online. And pandemic restrictions create logistics nightmare at the Shanghai port.
The U.S. issues travel advisory for China. Beijing pushes ideological campaign supporting Russia and Putin. And Chinese scholar says it's time to take Taiwan with "overwhelming troops and firepower."
Draconian lockdown sparks anger and despair
Of Shanghai's some 25 to 26 million residents, several million people are extremely low on food and running out of necessities, writes University of Chicago political scientist Dali Yang in a tweet thread.
"Many are surviving on one meal a day only, let alone getting a balanced diet. Urgent action to restore delivery operations is needed," he wrote on April 8.
"Tonight there are various scenes of confrontation as residents show their deep frustration with the draconian lockdown measures, their despair and anger, and seek help."
Video montage shows unfolding crisis
Human rights website China Change has put together a montage of more than a hundred videos pulled from Chinese social media, showing the increasingly desperate plight of people living in Shanghai under lockdown.
Amongst the multitude of tragedies unfolding one is the plight of migrants, including many from Anhui, who are unable to get access to government-distributed food supplies. (Warning: lots of disturbing content inside.)
LOCKDOWN Shanghai 2022 This is a montage of 100+ video clips and still photos gleaned from social media platforms in China in recent days. 77 mins. Subtitles.
youtu.be/6t0Vymq8AH4
No better way to study the Shanghai lockdown. It's like having 100 cameramen on 100 scenes.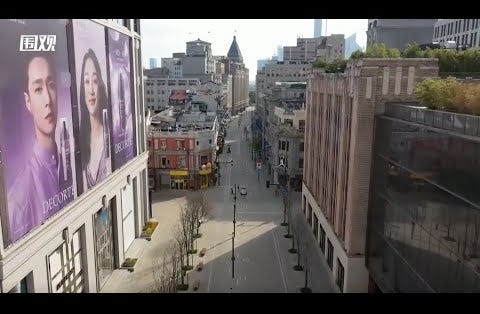 LOCKDOWN Shanghai 2022
LOCKDOWN Shanghai 2022This is a montage of 100+ video clips and still photos gleaned from social media platforms in China in recent days. 77 minutes.Keep in ...
youtu.be
Shanghai case curve 'does not bode well'
"How long will it last? Our analysis of Shanghai's case curve does not bode well," writes the Financial Times' Andy Lin in a tweet thread.
"Since the number of daily cases surpassed 100, Shanghai's outbreak has been closely following Hong Kong's Omicron wave despite harsher restrictions. Hong Kong's daily cases peaked at around 10,000 per [million]. If Shanghai walks the same path, it would mean 250,000 cases per day."
Meanwhile, Beijing has been hinting at even further tightening of the lockdown in Shanghai. "The latest sign came from People's Daily with a front page opinion piece urging for "upholding dynamic zero covid" to eradicate viruses in the face of surging cases," writes Lin.
In response to the outpouring of anger and angst, Chinese officials are warning Shanghai residents to be careful what they say online, report Lin and his colleague Eleanor Olcott in the Financial Times.
"Internet censors have been quick to scrub critical posts about the government from online public forums and Shanghai's internet watchdog on Friday urged people to "distinguish rumors from facts,"" write Olcott and Lin.
Trucker shortage hitting Shanghai port
Containers are piling up at the Shanghai port as lockdown restrictions block trucks from reaching them, reports Bloomberg News' Ann Koh.
"A shortage of trucks to haul containers from the port is impeding the clearance of imports, [Japanese container transportation company] Ocean Network Express said in a customer advisory Wednesday," reports Koh.
"There are a "critically high" number of refrigerated containers and items classified as dangerous goods piled up at two storage yards."
The trucker shortage is also affecting the neighboring provinces of Zhejiang and Jiangsu, according to a Citigroup report.
"Not only does this have a significant impact on China's domestic economy but also on potential regional supply chains, which could be more meaningful in Korea, Taiwan and Vietnam," the report said.
China to fall short of GDP growth target, says World Bank
The World Bank is predicting China will not make its 5.5 percent growth target this year, with a baseline projection of five percent and a downside scenario of four percent growth, tweets Bert Hofman, former country director for the World Bank in China.
US government advisory on China
The U.S. State Department has issued a travel advisory for Americans considering traveling to China, warning of "arbitrary enforcement" of Covid-19 restrictions, reports Bloomberg News.
"Washington highlighted Hong Kong, and Jilin province in northeastern China in addition to Shanghai as places Americans should not travel to "due to Covid-19-related restrictions, including the risk of parents and children being separated,"" reports the financial news service.
In addition, non-emergency employees and their family members at the U.S. consulate in Shanghai have been given permission to leave China.
"The move to allow voluntary departure of U.S. consulate employees in Shanghai and discourage Americans from visiting China's mega cities Shanghai and Hong Kong could exacerbate tensions that already run high between the world's two biggest economies amid the ongoing war in Ukraine," reports Bloomberg.
Campaign to support Russia and Putin
China is pushing a nationwide ideological campaign that paints Russia as blameless in Ukraine, and glorifies Putin as a hero, reports the New York Times' Chris Buckley.
While universities are requiring students take classes for a "correct understanding" of the war, officials are studying a Communist Party-produced 101 minute-long documentary that blames Western liberalism for destroying the Soviet Union and praises Putin for re-instilling pride amongst the Russian people.
"The humiliating collapse of the Soviet Union, the video says, was the result of efforts by the United States to destroy its legitimacy. With swelling music and sunny scenes of present-day Moscow, the documentary praises Mr. Putin for restoring Stalin's standing as a great wartime leader and for renewing patriotic pride in Russia's past," writes Buckley.
With the collapse of the Soviet Union, "some countries in Eastern Europe, Central Asia and Transcaucasia have become forward positions for the West to contain and meddle in Russia," says the documentary called "Historical Nihilism and the Soviet Collapse."
"The documentary attributes the decline of the Soviet Union to political liberalization, especially what Beijing calls "historical nihilism," or emphasizing the Communist Party's mistakes and misdeeds. It accuses historians critical of the Soviet revolution of fabricating estimated death tolls by many millions for Stalin's purges," writes Buckley.
"Stalin, it argues, was a modernizing leader whose purges went too far but initially "were something of a necessity" given the threats to Soviet rule. It suggests that rock music and modern fashion were symptoms of the moral rot that later set in."
"They actually believe their own narrative about color revolutions and tend to see this whole situation as a U.S.-led color revolution to overthrow Putin," Christopher K. Johnson, president of the China Strategies Group and a former Central Intelligence Agency analyst of Chinese politics, said to the Times in an interview.
"Both domestically and internationally, Xi has been peddling this dark narrative since he took power. It allows him to justify his accumulation of power and the changes he's made by creating this sense of struggle and danger."
Take Taiwan with 'overwhelming troops and firepower'
"We need to reunify with Taiwan province as soon as possible with our overwhelming troops and firepower," sociologist Li Yi told (Chinese) cadres at Beijing's Chaoyang District Party School.
"The war between Russia and Ukraine has proved that, as I stated in December of last year, the campaign to liberate Taiwan necessitates the rapid elimination of Taiwan's air force, navy, missile forces, and armored forces." said Li Yi.
"Simultaneously it demands cutting off water, electricity, and mobile phones throughout the island. Electricity, water, and mobile phones can all be reconnected in liberated areas, but they must remain disconnected in areas the PLA has not liberated, particularly mobile phones."
"For the past eight years, Putin has been preparing for a showdown with the US and NATO in Ukraine in all aspects of Russian military, economic, diplomatic, financial, and social life, including the localization of key components ... a full demonstration of what China should do," the sociologist said.
"All China has to do now is follow suit. China's economy is ten times that of Russia's, and it can accomplish these goals with ease and delight."
Notable/In depth
"As seen on Weibo: Shanghai residents go to their balconies to sing & protest lack of supplies. A drone appears: "Please comply [with] covid restrictions. Control your soul's desire for freedom. Do not open the window or sing," tweets Economist reporter Alice Su.
Here is another tweet thread of recent photos and videos showing spreading social unrest in response to China's stringent lockdowns.
"The possibility of any self-inflicted economic crisis, decline or even financial collapse represents the most pressing political threat hanging over Xi Jinping's head," writes former Australian prime minister Kevin Rudd in an excerpt from his new book The Avoidable War: The Dangers of Catastrophic Conflict between the U.S. and Xi Jinping's China.
"The party has only relatively recently rebuilt its domestic credibility and political legitimacy in China following the country's near economic collapse of the Great Leap Forward and, later, the Cultural Revolution. That's because in the decades after 1978, the party finally lifted people's living standards in what had long been an impoverished socialist paradise. To undo the unspoken social contract between party and people (i.e., political control in exchange for economic prosperity) in any way would reflect poorly on Xi."
Montana river
And here is a shot of a Montana river just before dusk.