Trade War
Newsletter 28 - July 13, 2020
Welcome to Newsletter 28 of Trade War. China appears to be facing increasing blowback from its "wolf warrior" approach to international relations, which could open up opportunities for other countries. China's foreign minister Wang Yi made a speech seemingly aimed at trying to stop the downward spiral in U.S.-China relations, but convinced few.
Meanwhile, China's foreign ministry spokesperson tried to put a happy face on the feared new National Security Law in Hong Kong, while a survey showed about one-half of the territory's residents are considering leaving and more than two-thirds of American companies in Hong Kong have become more concerned about the ill effects of the law.
The global supply chain's China reckoning
Two years of the trade war, COVID-19, and China's assertive global stance have companies reconsidering their heavy supply chain reliance on the mainland; that could open up opportunities for countries including particularly India with its large internal market, a point I made on India Today TV's Newstrack on Saturday.
Alienating the world
An article by Financial Times editor James Kynge examines how China these days seems to be alienating much of the world; that could spur a "global coalition" against China, says Susan Shirk, a professor at the School of Global Policy and Strategy at the University of California, San Diego.
China's assertive actions seem to be alienating much of the world.
ft.com/content/a0eac4…
Is this a gross miscalculation or is Beijing playing a much longer game?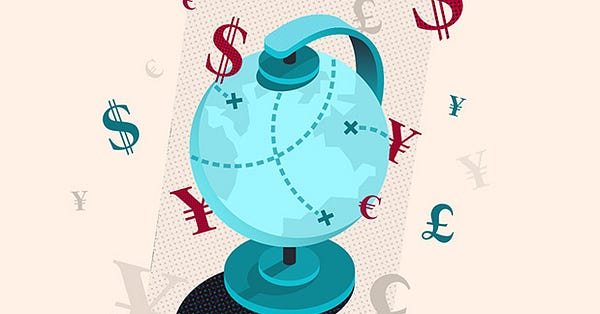 Subscribe to read | Financial Times
News, analysis and comment from the Financial Times, the world's leading global business publication
ft.com
Aggression and expansion are never in the genes of the Chinese nation
In a speech at a forum in his country's capital foreign minister Wang Yi rolled out Beijing's old argument that China has throughout history been a uniquely peaceful country. "Aggression and expansion are never in the genes of the Chinese nation throughout its 5,000 years of history," Wang proclaimed. (Try running that argument past people from Tibet, Xinjiang, Vietnam, and India.)
America is the problem
Here's an interesting Twitter thread on the Wang Yi speech by a Brookings Institution scholar. Ryan Haas, who was at the forum and heard the speech, argues that Wang seemed to be crafting at least three separate messages.
One was for China's own people ("China isn't expansionist, is focused on its own development"); one for an international audience ("China remains reasonable and America is the source of problems"); and one for the U.S. ("China does not seek to confront America or attempt to replace it on the world stage.")
Overall Haas writes that he saw no evidence however that China was "signaling recalibration in approach to US-China relations or its foreign policy."
Horses will run faster, stocks will be sizzling
When asked by a BBC reporter in Beijing what impact the national security law would have on Hong Kong, foreign ministry spokesperson Zhao Lijian responded by paraphrasing former leader Deng Xiaoping: "'Horses will run faster, stocks will be more sizzling, and dancers will dance more happily.' We have full confidence in Hong Kong's future."
50% considered leaving Hong Kong
While Beijing may claim confidence, that's not what Hong Kong residents themselves are feeling. About 50 percent say they have considered leaving - and that was before the new law - with Taiwan their number one choice, says a new survey.
International business jeopardized?
And in a poll carried out by the American Chamber of Commerce in Hong Kong, more than two-thirds of U.S. companies said they have become more concerned about the new law.
"When asked what worried them most about the law, most respondents were concerned with ambiguity in the scope and enforcement of the law, the independence of the judicial system and whether the city's status as an international business centre would be jeopardized," the South China Morning Post reports.
U.S. citizens may be detained
"U.S. citizens may be detained without access to U.S. consular services or information about their alleged crime," the State Department has warned in a new travel advisory on China. "U.S. citizens may be subjected to prolonged interrogations and extended detention for reasons related to "state security." Security personnel may detain and/or deport U.S. citizens for sending private electronic messages critical of the PRC government."
The trade deal is off the tracks
Yes, that's right: the trade deal really isn't happening. "China isn't on track to come close to meeting its Phase One purchase commitments," tweets the Council on Foreign Relations Brad Setser. "It isn't even on track to match is 2017 imports of U.S. goods." Read his blog for more on that.
No, no phase two..
And don't forget: the real important commitments were all supposed to come in a phase two deal. Now Trump has said the later phase deal looks unlikely. "I don't think about it now. The relationship with China has been severely damaged," Trump told reporters on an Air Force One flight to Florida.
Notable/In Depth
Is Taiwan next? "Unless the US demonstrates the resolve and ability to resist Chinese coercion and aggression, China's leaders may eventually conclude that the risks and the costs of future military action against Taiwan are low—or at least tolerable," write Michael Green and Evan Medeiros in a Foreign Affairs article called "Is Taiwan the Next Hong Kong?"
"There are some places where moral outrage should triumph over materialism .. sometimes we just need to say "They violated human rights." Egregiously. Appallingly. Full stop," writes author and journalist Mei Fong in an important article on the Uighurs and the One-Child policy in The Atlantic.
I had a fun time talking about how a kid from Montana (me) ended up in China and experiences coving China's entry into the World Trade Organization in this podcast from the USC U.S.-China Institute.