Trade War
Newsletter 78 - August 7, 2021
Welcome to the 78th edition of Trade War.
The crackdown continues: shares of Tencent, China's largest social media company, plunge after state media calls online gaming "spiritual opium." Regulators to impose $1 billion fine on food delivery giant Meituan. And China's tech billionaires respond to the crackdown with a flood of charity.
Huawei's business suffers under U.S. sanctions. American business groups ask the Biden administration to drop sanctions on China. And Biden approves his first Taiwan arms sale.
Gaming labelled "spiritual opium"; Tencent plunges
China's largest social media and gaming company Tencent saw its stock plunge after an article in the state press called online gaming "spiritual opium," reports Bloomberg News' Zheping Huang.
"China's most valuable corporation fell as much as 11% after an outlet run by the Xinhua News Agency published a blistering critique of their industry," writes Huang.
"The Economic Information Daily cited a student as saying some schoolmates played Tencent's Honor of Kings -- one of its most popular titles -- eight hours a day and called for stricter controls over time spent. The online link to the post was removed hours later without explanation -- then restored to the paper's website late in the day but with narcotics references stripped out."
A day later Tencent announced limits on children playing Honor of Kings, restricting those under 18 to one hour a day, and two hours a day on public holidays, reports the South China Morning Post.
"Last year, Honor of Kings went on to become the first video game in the world, on any platform, to average more than 100 million users a day – the equivalent of about the entire population of the UK and Canada combined," the Hong Kong-based paper writes.
WeChat not protecting Chinese minors
Beijing prosecutors have begun a lawsuit against a Tencent subsidiary, saying its WeChat app does not follow laws protecting minors, reports Reuters.
WeChat's "youth mode" is supposed to limit children's access to certain games and functions, "such as payments or finding nearby friends," according to Reuters.
"Chinese authorities have called for minors to be better protected from online dangers, a sentiment echoed by state media this week which criticized the video gaming industry as well as online platforms that help promote celebrity culture."
Prosecutors in
#China
initiated a civil public-interest lawsuit against a Tencent (
0700.HK
) subsidiary on Friday, saying the "youth mode" on the company's popular social messaging app WeChat does not comply with laws protecting minors.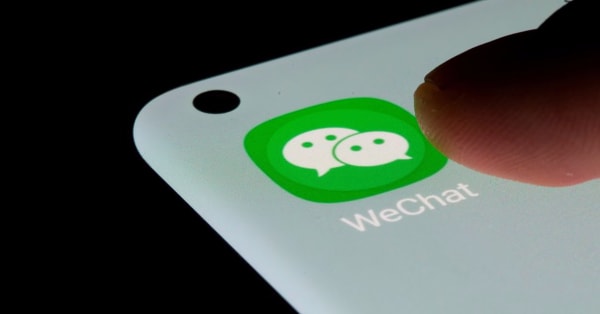 Beijing prosecutors initiate lawsuit against Tencent over WeChat's 'youth mode'
Beijing prosecutors initiated a civil public-interest lawsuit against a Tencent <a href="https://www.reuters.com/companies/0700.HK" target="_blank">(0700.HK)</a> subsidiary on Friday, saying the "youth mode" on the company's popular social messaging app WeChat does not comply with laws protecting mi…
reuters.com
Meituan to be hit with $1 billion fine
China's anti-trust regulator will hit food delivery giant Meituan with a fine of about $1 billion, reports the Wall Street Journal's Keith Zhai.
"The penalty could be announced in the coming weeks, and Meituan would be required to revamp its operations and end a practice that has been dubbed "er xuan yi"—literally, "choose one out of two," reports the business paper. "Such exclusivity arrangements have forced many small businesses to pick sides in China's competitive retail industry."
"Meituan is also a big player in China's gig economy, which has millions of workers that aren't formally employed by companies and are often paid by the hour. Chinese regulators recently criticized the industry for its poor treatment of delivery workers and other independent contractors. Meituan has promised to purchase insurance for all its delivery riders that would provide better injury coverage," writes Zhai.
Meituan, with a market capitalization of about $170 billion, is China's third-most valuable internet company after Tencent and Alibaba. The ongoing regulatory crackdown has hammered the private sector, with China's six biggest technology companies losing more than a $1 trillion in market value since February.
Huawei suffers under US sanctions: 38% drop in revenue
As U.S. sanctions continue to hurt its business, Huawei reported a 38 percent drop in quarterly revenue, writes the Wall Street Journal's Dan Strumpf.
"The drop marks the third straight decline in quarterly revenue for Huawei, the world's largest maker of telecom equipment and formerly one of the world's biggest smartphone sellers, and the declines have accelerated since the end of 2020," the Journal reports.
"Huawei's smartphone sales, once a top revenue driver for the company, have fallen dramatically since the Trump administration imposed restrictions last year blocking the company from buying most advanced semiconductors. Revenue from telecommunications equipment sales have also dropped, although less dramatically, amid a U.S. campaign pressuring allied countries to drop the Chinese company as a supplier of 5G equipment."
The crackdown spurs a wave of charity
The crackdown on China's private technology companies has spurred a wave of charitable donations, writes Fortune's Yvonne Lau.
"In the past eight months, five of China's richest and most high-profile tech billionaires have pledged at least $13 billion of their personal or corporate fortunes to charitable foundations and initiatives, a sum that far exceeds previous years' totals," writes Lau. Those include the founders of Tencent, online grocery platform Pinduoduo, Meituan, TikTok parent company ByteDance, and smartphone maker Xiaomi.
"It's hard to believe there is not a direct connection between…the recent generosity and the ongoing government crackdown," says Dexter Roberts, senior fellow at the Atlantic Council's Asia Security Initiative and author of The Myth of Chinese Capitalism. "They all now must be aware they could be next in Beijing's crosshairs; and that by demonstrating this largesse, they might insulate themselves at least a little from any future state action."
"The sudden bout of gift-giving is certainly no guarantee that they won't be targeted, [but] it certainly won't hurt them in the eyes of the Party and its top leader, Xi Jinping," says Roberts.
US biz to Biden admin: work to end China curbs
In a joint letter, nearly three dozen U.S. business groups are calling on the Biden administration to restart negotiations with China to end tariffs, reports the Wall Street Journal's Bob Davis.
"The trade groups include some of Washington's most influential big business associations, including the U.S. Chamber of Commerce, the Business Roundtable, the National Retail Federation, the American Farm Bureau Federation and the Semiconductor Industry Association," according to the business paper.
"The broadside by the trade groups represents increasing frustration by a swath of American corporations at the pace of the administration's review of China trade and economic policy. The administration has given few hints about whether it intends to try to enforce the Phase One trade accord negotiated by the Trump administration or seek to extend it."
Biden approves first Taiwan arms sale
Biden has approved the first arms sale to Taiwan of his administration, writes Bloomberg News's Anthony Capaccio.
"It calls for selling Taiwan 40 new M109 self-propelled howitzers and almost 1,700 kits to convert projectiles into more precise GPS-guided munitions, according to a State Department notification to Congress," writes Capaccio; since 2010, the U.S. has announced arms sales of more than $23 billion to Taiwan.
"President Xi Jinping called his country's quest to gain control of Taiwan a "historic mission" in a speech marking the 100th anniversary of the Chinese Communist Party. U.S. Defense Secretary Lloyd Austin has labeled China the key threat guiding U.S. defense spending priorities."
"China's warplanes made incursions into the southern part of Taiwan's air defense identification zone on 87 days in 2020 -- more than in the previous five years combined -- and have surpassed that number already this year," reports Bloomberg.
Qin Gang: deep voice, slow talk & well-dyed dark hair
China's new ambassador to the U.S. is expected to carefully follow orders from his boss Xi Jinping while trying to improve relations with the U.S., write William Yang and Ahmed Aboudouh for the Independent.
"Qin, 55, tried to project the image of a traditional Chinese statesman in the eyes of his hosts, with his deep voice, slow and clear talk and well-dyed dark hair," reports the Independent. "In his first statements in the US, he delivered a conciliatory message to the American people, stating that "the door of US-China relations, which is already open, cannot and should not be closed.""
Mending relations with the U.S., however, will not be Qin's major focus: "For many in China, the ability to impress the audience of one (President Xi Jinping) is more important than convincing an international audience or conveying political narratives," Dr Andreas Fulda, China expert at the University of Nottingham, told the Independent.
Ed-Tech crackdown & Xi's Politics in Command Economy
In his efforts to make China more equal and less corrupt, Xi is relying heavily on top-down mandates, writes Lizzi C. Lee in The Diplomat.
"In a speech delivered at the Communist Party's Central Party School in January, Xi Jinping called on the government to proactively reduce the ever-growing income gaps to improve people's sense of "empowerment, happiness, and security," writes Lee. "Reiterating the importance of "common prosperity," Xi warned it is "not only an economic issue but also a major political issue."
"The crackdown reflects Xi's broader desire to take China out of its Gilded Age, as well as his preferred method to achieve that via command, argues Yuen Yuen Ang, associate professor of Political Science at the University of Michigan, Ann Arbor," writes Lee.
"He genuinely wants a society that is less corrupt and more equal. And he intends to do so through commands. Have poverty? Command its eradication. Have corruption? Command its eradication. Have unequal education access? Command its eradication," Ang wrote.
"While the importance of the private sector to China's economy has not lessened, its status in the eyes of China's top officials has undergone a real downgrading in recent years," Dexter Roberts writes in a recent report for the Atlantic Council.
"Economies don't work that way"
I talk to Bloomberg Opinion's Matthew Brooker about why I don't think Xi Jinping's multi-pronged strategy of reining in China's private sector, continuing to grow the economy, while redistributing wealth is likely to succeed:
"My feeling is that economies don't work that way."
"They have done very well and the economy may overtake the U.S., but who is to say they stay in that position? There are tremendously serious stresses in the economy that will be very difficult to deal with. There's the demographic challenge — there will be four working people for every retiree in not too many years. They seem to be unwilling to do certain reforms. There's been a real drying up of the productivity that's been driving the economy."
Notable/In Depth
Even as the trade war with the U.S. has continued, the technological level of China's exports has gone up a new study shows, writes Bloomberg News' Tom Hancock.
Call it "progressive authoritarian," China's leaders are taking aim at the "disorderly expansion of capital" and cracking down on those companies that are seen as contributing to inequality and instability, report Bloomberg News Tom Hancock and Tom Orlik.
What if China never reopens? asks Eyck Freymann writing in The Wire China.
And some more blue sky