Trade War
Newsletter 135 - October 9, 2022
Trade War is a reader-supported publication. To receive new posts and support my work, consider becoming a paid subscriber.
Welcome to the 135th edition of Trade War.
China's ascent to become world's biggest economy now delayed, some say for ever. Country facing economic and political challenges in move from investment-driven growth, particularly in property, to new reliance on household consumption. Investors say post-Party Congress period may bring good news for business; others call it wishful thinking.
Two-decade-old Xi commentary reveals the early origins of his conservative, anti-reformist policies. Long before becoming China's top leader, Xi was already skeptical about the Western economic focus on market opening. China has success in growing per capita gross national income but does Xi care?
Global banks execs scheduled to join conference with Hong Kong's U.S.-censored chief executive—the move may not violate sanctions but shows banks' willingness to appease authoritarian leaders for profits. Elon Musk suggests Taiwan cede some control to China, outraging Taipei and winning praise from Beijing.
"China shock" accounts for 59.3 percent of U.S. job losses. In unfortunate comments, think tank head calls concern with domestic manufacturing a "fetish for keeping white males with low education" in power. And Biden administration announces sweeping extension of sanctions on Chinese chip companies.
China stuck in 2nd place
Remember all those investment banks and research houses predicting China would soon surpass the U.S. to have the world's biggest economy? I write in my latest commentary for The China Project.
15 years ago Goldman Sachs said it would happen in 2026. Last year Nomura predicted China would take the lead in 2028, while JPMorgan said by 2031 at the latest. It was supposed to be a done deal with the question only being when.
Well, it may not happen quite so fast or some say, ever. A slumping economy, which grew only 0.4% in the second quarter over a year earlier, plus the rapid depreciation of the Chinese yuan against the dollar — down more than 10% so far this year — makes China taking charge as economic superpower now look a lot further off. (According to the World Bank, China's GDP grew to 77% of that of the U.S in 2021, up from only 13% in 2001.)
As countries around the world, including the U.S., raise interest rates to stem inflation, China is the only major economy now cutting them as officials try to boost their struggling economy.
Former U.S. Treasury Secretary Lawrence Summers recently told Bloomberg News it was "now much less clear" whether China would ever surpass the U.S., citing low productivity and government control over business. Already several years ago, Capital Economics chief Asia economist Mark Williams was saying China likely would never become number one, naming falling productivity as well as China's shrinking workforce as reasons.
And I predicted in my 2020 book "The Myth of Chinese Capitalism," that even if China were to surpass the U.S. it might well fall back again into second place later, because of a lack of progress in reforming the hukou or household registration system and the land market, both of which are necessary to create a more consumption-driven economy and drive growth (I have made this prediction again much more recently.)
While China's leaders have never said it explicitly, it's pretty clear that there is a second part to their much touted goal for their country to become "prosperous and strong" by the 100th anniversary of the founding of the People's Republic of China in 2049.
The unsaid part is that China must also surpass the U.S. (Xi's oft repeated statement that "the East is rising and the West is declining" and that "time and momentum are on our side," more than hints at that.) And if China never does become the world's preeminent power as measured in economic heft, that's sure to provide a serious stress test to the Party's legitimacy.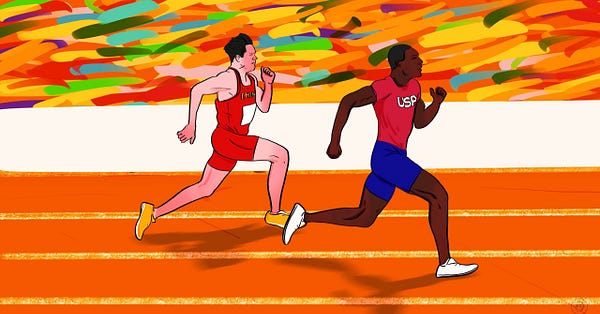 thechinaproject.com
Is China stuck in second place? – The China Project
This was supposed to be China's century, but the country may never surpass the U.S. as the world's largest economy.
How can China's economy keep growing?
China's goal of replacing reliance on investment, particularly in property, with a more consumption-driven economy, or rebalancing, is facing significant economic and political obstacles, writes the Financial Times' Edward White.
"As Xi approaches an unprecedented third term in power, he and his top lieutenants have not only the immediate task of orchestrating a soft landing from turmoil roiling China's property sector. They must also respond to a stark question: without property as China's key driver, how can the economy keep growing?" writes White.
"Given the relatively modest role that consumption plays in its economy, the IMF has described China as a "global outlier." The country's gross domestic savings as a percentage of GDP is 44 percent, compared with an average of 22.5 percent among OECD members. Over the long term, much of this is believed to be precautionary savings, cash put aside for housing, education, healthcare and retirement," reports the financial paper.
"Dexter Roberts, a senior fellow with the Atlantic Council, says Xi, who has centralized authority during his decade in power, has played a critical role in "slowing down" social reforms when they threaten party control."
"He points to two examples. First, promises to liberalize rules for rural land owners to freely buy and sell property. And second, reforming the hukou household registration system, a core institution that blocks China's massive migrant population — of almost 400 million — from some key services," writes White.
"Xi Jinping believes these legacy institutions should have a key role, because he believes that the party should have a key role throughout society," says Roberts. "Ultimately, he's not comfortable with the idea of free migration around the country."
"Roberts says unless there is a course correction and economic reforms are revived, China faces the distinct prospect of following the path of countries such as Russia, South Africa and Brazil that have struggled to achieve the status of a high-income nation."
Post-Party Congress opening? A lot of wishful thinking
Keep reading with a 7-day free trial
Subscribe to Trade War to keep reading this post and get 7 days of free access to the full post archives.