Discover more from Trade War
The latest, most vital news on China's economy and its business and political relationship with the world
Welcome to the 57th edition of Trade War. While Xi is using China's successful elimination of absolute poverty to further burnish his image as great leader, Chinese authorities are punishing anyone who dares to even mildly criticize the party.
Biden has announced plans for a sweeping review of critical supply chains and his choice for trade czar says she intends to take on China's state-directed economic model. Meanwhile, China continues to move away from its previous reliance on manufacturing and announces further rural land reform but emphasizes caution.
Xi's splendid miracle shining in history
In a triumphant speech delivered from Beijing's Great Hall of the People, Xi Jinping announced a "complete victory" over extreme poverty, reports the Washington Post's Lily Kuo.
"This is the glory and honor of the Chinese people" and "a splendid miracle shining in history," Xi said while bestowing medals on local officials he heralded as "model fighters" in "a massive people's war against poverty." (Here is Xi's full speech in Chinese.)
In the eight years since Xi took over as China's top leader as much as 1.6 trillion yuan ($246 billion) has been spent on bringing some 100 million people out of poverty, a policy "key to Xi's legacy as he works to cement his position as the country's most powerful leader since Mao Zedong," according to the Washington Post.
Party mouthpiece People's Daily ran a three-page spread touting Xi's leadership in the massive campaign declaring that "the problem of absolute poverty that has plagued us for thousands of years has come to an end."
Equal (or surpass) Mao?
Noting that the People's Daily article mentioned Xi a stunning 139 times, Fordham University law professor Carl Minzer writes that "party propaganda is setting things up for Xi to claim personal credit for eradicating poverty in China" and that it will be "a core element of efforts in the near future to raise Xi's personal status in the Party ideological pantheon to a Mao-like level."
"In Party doctrine, Mao unified China after decades of civil war, and ended the century of humiliation at the hands of foreign powers. But if Xi is to be personally credited with ending *millennia* of poverty in China …." writes Minzer, who is also author of End of an Era: How China's Authoritarian Revival is Undermining its Rise.
Winning the People's Daily headline game
Meanwhile, this interesting chart from University of Vienna China Studies professor Christian Goebel shows that Xi is now significantly outperforming Mao in frequency of headline mentions in the People's Daily.
"Blasphemies of heroes and martyrs will not be tolerated"
While Xi is getting over-amplified, government censors are busy cracking down on anyone who express even a hint of criticism of the party, reports the New York Times' Li Yuan.
"At least seven people over the past week have been threatened, detained or arrested after casting doubt over the government's account of the deaths of Chinese soldiers during a clash last year with Indian troops," Li writes. "The internet is not a lawless place," said the police notices issued in their cases. "Blasphemies of heroes and martyrs will not be tolerated."
An online database of speech crimes in China, maintained by a someone who identifies himself as only Wang "paints a bleak picture of a government that punishes its citizens for the slightest hint of criticism," and "shows how random and merciless China's legal system can be when it punishes its citizens for what they say, even though freedom of speech is written into China's Constitution."
Pandemics, cyberattacks, climate shocks & supply chains
You read it here last week: Biden has issued an executive order aiming to strengthen on supply chains focusing on semiconductor chips, electric-vehicle batteries, rare earths, and pharmaceuticals (this last one is new).
The plan calls for government agencies to begin with a 100 day review of supply chain risks. The U.S. needs "resilient, diverse, and secure supply chains to ensure our economic prosperity and national security," the order says, that can guard against "pandemics and other biological threats, cyber-attacks, climate shocks and extreme weather events, terrorist attacks, geopolitical and economic competition."
Trade Czar Tai to take on 'state-directed economics'
Katherine Tai, Biden's nominee for U.S. Trade Representative, told U.S. senators she will work to strengthen supply chains and ensure China meets its trade promises, reports Reuters.
Tai, a skilled trade lawyer and fluent Mandarin speaker, said it was crucial the United States have a clear plan to help U.S. companies compete with China's "state-directed economics" model.
"China is simultaneously a rival, a trade partner, and an outsized player whose cooperation we'll also need to address certain global challenges," she said in prepared testimony, seen by Reuters. "We must remember how to walk, chew gum and play chess at the same time."
WTO compliance: provinces & cities vie with Beijing
China's record on meeting World Trade Organization commitments - now under fire from those who argue it was a mistake to bring Beijing into the multilateral trading organization - has been complicated by a political system with vying interests for and against reform, writes political scientist Yeling Tan in Foreign Affairs.
"Given the multitude of actors and interests involved in Chinese economic affairs, traditional state-to-state diplomacy, centered on communications between national capitals, is necessary but insufficient," Tan writes.
"Substate actors, such as provinces and cities, wield substantial authority over economic affairs. The actions of Chinese firms do not necessarily represent the will of Beijing. Countries must therefore take a multipronged approach to engage with China at different levels."
China: deindustrialization still to come
While growth in the number of workers in industry stopped in 2012, China still lags others in deindustrialization, writes Peterson Institute for International Economics senior fellow Mary Lovely.
In 2019, those employed in industries in China amounted to more than 27 percent of the workforce; by contrast, in other upper-middle-income economies, industry accounted for about 22 percent of jobs.
"Similarly, China's manufacturing sector contributed more to GDP than those in other comparable economies," Lovely writes. The value added from manufacturing made up more than 27 percent of GDP, which was almost 15 percentage points higher than the upper-middle-income average, "indicating there is more deindustrialization to come."
More cautious rural land reform
As part of Xi's plan to boost "rural revitalization" - a policy that aims to lift incomes in the countryside following the conclusion of the battle against poverty - Chinese authorities will encourage land reform, reports Bloomberg News.
"China will push forward rural land reforms in a cautious manner as it tries to balance bolstering food security, particularly during the coronavirus pandemic, with economic growth," reports Bloomberg. The plan calls for measures including the transfer and leasing of rural land to boost incomes for those in the countryside which still lag urbanites.
"On rural land issues, we cannot simply calculate the economic returns," agriculture minister Tang Renjian said in an article on the ministry's website. "It's important for farmers to have a house and piece of land as this has played an important role in stabilizing the countryside, especially during the pandemic when 30 million migrant farmers were unable to travel to cities to find work, he added."
Tang also stressed that China should continue to maintain its "red line" of having at least 1.8 billion mu (120 million hectares) of arable land and "ensure that permanent farmland is mainly planted with grains, fruits and vegetables so that the country can be self-reliant," Bloomberg reports. "We will try to produce and store as much grains as possible to deal with any uncertainty in the external environment," Tang said.
A crushing of Hong Kong unimaginable a year ago
With a speed that few expected, authorities have used the National Security Law in Hong Kong to "stamp out street protests, ban activists from lobbying foreign governments, gut the city's legislature and arrest most of the opposition," writes the Wall Street Journal's Wenxin Fan.
"Officials see a need to use the law's broad provisions more firmly to tame critical media, revamp education and tighten internet controls, fashioning the liberal financial center in the authoritarian mold of China's other cities," writes Fan. "Everything that's happening in Hong Kong today was unimaginable a year ago," political satirist Sam Ng told his 250,000 YouTube followers earlier this year.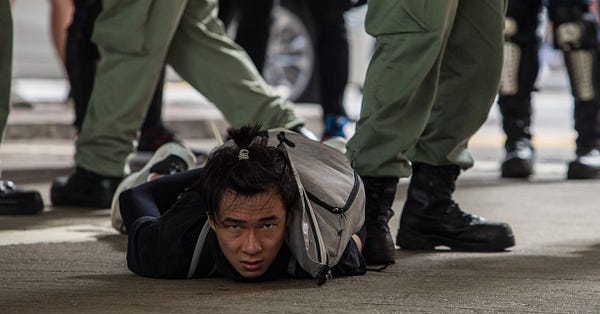 wsj.com
China's Campaign to Crush Democracy in Hong Kong Is Working
Freewheeling former British colony almost brought to heel by new national security law used to quell street protests, ban foreign lobbying and gut the legislature
Notable/In Depth
The disturbing collapse in birthrates in Xinjiang is shown by the plummeting red line in this graph.
Taiwan "is becoming the most dangerous flash point in the world for a possible war that involves the United States, China, and probably other major powers," warns a new Council on Foreign Relations report.
]When governments declare that real news is fake, but then later get caught out in deception, the damage done to their reputation is large, says a new paper by political scientists Chengli Wang and Haifeng Huang.
Fascinating, in-depth podcast on the back-in-the-news topic of rare earths; Sinica Podcast's Kaiser Kuo talks to Julie Klinger, a professor at the University of Delaware's Department of Geography and Spatial Sciences.
Morning hike view
A morning hike by the author of Trade War yields this view.